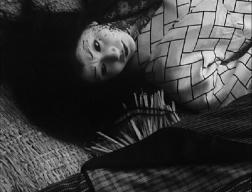 Shima Iwashita (1941 - )
Film Deaths
Edit
Harakiri (Seppeku) (1962) [Hanshiro Tsugumo]: [Miho Tsugumo]: Dies of sickness off-screen. Her death is mentioned by Tatsuya Nakadai.
Sword of the Beast (Kedamono no ken) (1965) [Taka]: Sliced across the back with a sword.
Double Suicide (Shinju: Ten no Amijima) (1969) [Koharu/Osan]: Playing a dual role, "Koharu" is stabbed in the neck (with her own consent) by Kichiemon Nakamura in a suicide pact, after he first stabs her in the stomach and back. Their bodies are shown again afterwards lying side by side. ("Osan" survives the movie.)
Red Lion (Akage) (1969) [Tomi]: Shot multiple times by soldiers. She dies in the arms of Toshirô Mifune.
Samurai VS Bandit Squadron '(Kumokiri Nizaemon)' (1978) [Chiyo]: Executed off-screen. We just see her tied up with robe prepared for his execution.
Onimasa: The Japanese Godfather (Kiryûin Hanako no shogai) (1982) [Uta Kiryûin]: Dies of sickness in the arms of Tatsuya Nakadai.
TV Deaths
Edit
The Tokugawa Regime (Aoi tokugawa sandai)(2000) [O-Ren]: Dies of sickness while talking to her husband Toshiyuki Nishida.
Noteworthy Connections
Edit
Ad blocker interference detected!
Wikia is a free-to-use site that makes money from advertising. We have a modified experience for viewers using ad blockers

Wikia is not accessible if you've made further modifications. Remove the custom ad blocker rule(s) and the page will load as expected.