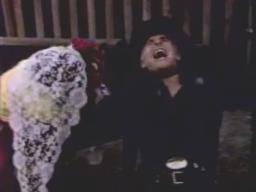 Steve Martin (1945 - )
Screenwriter/playwright/musician/stand-up comic
note on category: to popular belief, he was never a cast member on 'Saturday Night Live'.
Film Deaths
Edit
Pennies from Heaven (1981) [Arthur Parker]: Executed by hanging (off-screen); we see him standing at the gallows, followed by a scene of Steve meeting Bernadette Peters and telling her he was released, but it seems clear that the "happy ending" is a fantasy.
Little Shop of Horrors (1986) [Orin Scrivello, DDS]: Dies of an overdose of nitrous oxide in his office, while Rick Moranis holds a gun on Steve and looks on in puzzlement. Rick then takes the body back to the flower shop and feeds it to the giant Audrey II plant (voiced by Levi Stubbs). (Played for comic effect.) (Thanks to Brianna, Scott, and Tommy)
TV Deaths
Edit
Steve Martin: Comedy Is Not Pretty (1980) [Himself/Various Characters]: Died in at least two sketches that I can recall: (1) As "Socrates," he is poisoned when he drinks hemlock (not knowing it's poisonous); he dies shortly afterwards while talking to Werner Klemperer. (2) As "Cowboy," he is shot in the chest by a chimpanzee cowboy; he dies shortly afterwards as a chimpanzee dance-hall girl kneels by his side. (Played for comic effect, obviously.)
Saturday Night Live (January 31, 2009) [Host/Various Characters]: In the "Laser Cats 4" sketch, he self-destructs while talking to Bill Hader and Andy Samberg, after revealing himself to be Steve in disguise (rather than being Kenan Thompson, who had played the character previously in the sketch). (Played for comic effect.) (Thanks to Tommy)
Noteworthy Connections
Edit
Ad blocker interference detected!
Wikia is a free-to-use site that makes money from advertising. We have a modified experience for viewers using ad blockers

Wikia is not accessible if you've made further modifications. Remove the custom ad blocker rule(s) and the page will load as expected.