The Snowman (2017)
Directed by Tomas Alfredson and written by Hossein Amini and Peter Straughan,
For well over a decade across Scandinavia during the winter months a number of people, notably English speaking expats have gone missing with only pieces of them ever being recovered...if at all. Now in Oslo seasoned if flawed Detective Harry Hole (Michael Fassbender) investigates the disappearance of a woman whose pink scarf is found wrapped around a morbid snowman, joining forces with a rookie detective (Rebecca Ferguson) whose father supposedly committed suicide, Harry and his newly formed team notices a disturbing pattern in mysterious vanishings and unsolved murders with always two things commonplace; if the victims are found they have been surgically dismembered and ominous-looking snowmen have been left at the scene of each crime
Male Deaths
Edit
Female Deaths
Edit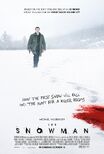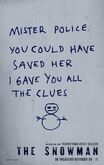 Ad blocker interference detected!
Wikia is a free-to-use site that makes money from advertising. We have a modified experience for viewers using ad blockers

Wikia is not accessible if you've made further modifications. Remove the custom ad blocker rule(s) and the page will load as expected.