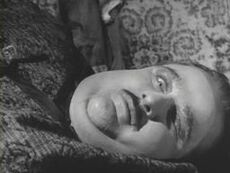 Victor Buono
(1938 - 1982) 
Film Deaths
Edit
Hush...Hush, Sweet Charlotte (1964) [Big Sam Hollis]: Dies (off-screen) of natural causes, at some point between the 1920s prologue sequence and the "present-day" portion of the film.
The Strangler (1964) [Leo Kroll]: Shot in the chest by David McLean and Baynes Barron when they burst in on Victor attacking Davey Davison in her apartment; he then falls out the window, and his body is shown lying in the street below.
The Silencers (1966) [Tung-Tze]: Shot in the chest by Dean Martin, using a specially-rigged, backwards-firing gun (as victor threatens to shoot Stella Stevens).
Beneath the Planet of the Apes (1970) [Fat Man]: Either killed (off-screen) by the apes during their attack on the underground city, or killed in the explosion when Charlton Heston detonates the doomsday bomb.
The Mad Butcher (Lo Strangolatore di Vienna; Meat is Meat; The Strangler of Vienna) (1971) [Otto Lehman]: Falls into his meat-grinding machine at the end of a struggle with Brad Harris.
TV Deaths
Edit
The Wild Wild West: The Night of the Inferno (1965) [Juan Manolo]: Stabbed in the chest with a blade concealed in a pool cue, at the end of a fight with Robert Conrad.
Taxi: Jim's Inheritance (1982) [James Caldwell]: Dies (off-screen) of heart failure; we learn of his death when his son (Christopher Lloyd) is informed that Victor's funeral had been held several days before. (Note: Victor doesn't appear in person in this episode, having died in early January that year of an actual heart attack, as well as not having guest starred on the show since the episode Going Home two years prior.)
Ad blocker interference detected!
Wikia is a free-to-use site that makes money from advertising. We have a modified experience for viewers using ad blockers

Wikia is not accessible if you've made further modifications. Remove the custom ad blocker rule(s) and the page will load as expected.