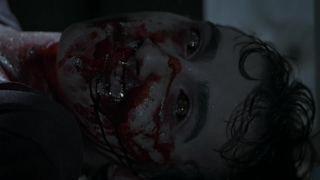 Vincent Martella (1992 - )
Deaths in Television
Edit
R.L. Stein's The Haunting Hour: Poof de Fromage (2012) [Jean-Louis]: Eaten alive by the parasitic aliens (in the form of cheese curl snacks) when they break into the house, along with Quinn Lord, Victoria Bidewell, and Aaron Craven.
Deaths in Video Games
Edit
Lightning Returns: Final Fantasy XIII (2013) [Hope Estheim]: After having his soul removed some time between the events of this game and its prequel (Final Fantasy XIII-2), his body is destroyed by Daniel Riordan, in order to show Ali Hillis his power. He is brought back to life when Ali rescues his soul, while restoring his body in the process.
Notable Connections
Edit
Brother of Alexander Martella
Ad blocker interference detected!
Wikia is a free-to-use site that makes money from advertising. We have a modified experience for viewers using ad blockers

Wikia is not accessible if you've made further modifications. Remove the custom ad blocker rule(s) and the page will load as expected.