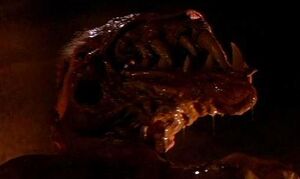 Wilford Brimley (1934 - )
Movie Deaths
Edit
The Thing (1982) [Dr. Blair]: Killed (off-screen) and assimilated by the alien, assuming his appearance. His death is revealed when the alien (in Wilford's form) attacks Donald Moffat. The alien blows up after Kurt Russell throws a dynamite stick at it.
Death Valley (1982) [Sheriff]: Struck in the chest with a pickaxe and stuffed into a closet by Stephen McHattie.
The Hotel New Hampshire (1985) [Iowa Bob]: Dies of a heart attack, caused by the shock of seeing a taxidermy-mount of his dead dog fall out from a storage closet.
The Firm (1993) [William Devasher]: Possibly beaten to death by Tom Cruise. While the film doesn't state if he is dead or not, he is no longer moving at the end after being hit multiple times.
Brigham City (2001) [Stu]: Shot in the head by Matthew Brown while Wilford was investigating a kidnapping/murder.
Television Deaths
Edit
Ad blocker interference detected!
Wikia is a free-to-use site that makes money from advertising. We have a modified experience for viewers using ad blockers

Wikia is not accessible if you've made further modifications. Remove the custom ad blocker rule(s) and the page will load as expected.