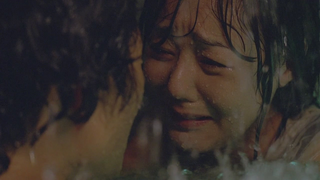 Yunjin Kim (1973 - )
a.k.a. Yoon-jin Kim, Kim Yoon-jin
Deaths in Film
Edit
Swiri (Shiri) (1999) [Myung-hyun Lee/Bang-hee Lee]: Shot in the head by Suk-kyu Han, after she makes a last-ditch attempt to assassinate one of the politicians.
Deaths in Television
Edit
Lost: The Candidate (2011) [Sun-Hwa Kwon]: Drowns (off-screen), along with Daniel Dae Kim, after she is trapped against the wall of the submarine while it is flooding.
Ad blocker interference detected!
Wikia is a free-to-use site that makes money from advertising. We have a modified experience for viewers using ad blockers

Wikia is not accessible if you've made further modifications. Remove the custom ad blocker rule(s) and the page will load as expected.