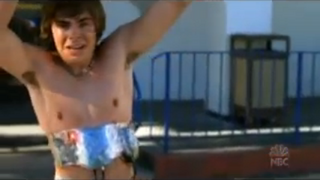 Zac Efron (1987 - )
Deaths in Film
Edit
Charlie St. Cloud (The Death and Life of Charlie St. Cloud) (2010) [Charlie St. Cloud]: Is temporarily clinically dead after his car is accidentally hit by a truck. He is brought back to life when Ray Liotta manages to resuscitate him on the way to the hospital.
Deaths in Television
Edit
ER: Dear Abby (2003) [Bobby Neville]: Dies on the operating table after being shot in the stomach (off-screen).
Heist: Pilot (2006) [Pizza Guy #1]: Killed when the bomb strapped to his body detonates after the police prevent him from robbing the bank, as Dougray Scott and Steve Harris watch from a distance.
Robot Chicken: Tell My Mom (2009; animated) [Billy Joel/Mechanic]: Providing the voice of two different characters, "Billy Joel" is stabbed to death outside the nightclub by "Paul" (voiced by Seth Green). (Played for comic effect.)
Ad blocker interference detected!
Wikia is a free-to-use site that makes money from advertising. We have a modified experience for viewers using ad blockers

Wikia is not accessible if you've made further modifications. Remove the custom ad blocker rule(s) and the page will load as expected.