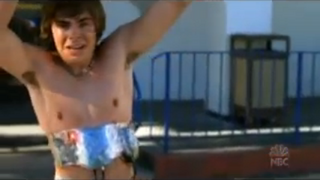 Zac Efron (1987 - )
Deaths in Film
Edit
Charlie St. Cloud (The Death and Life of Charlie St. Cloud) (2010) [Charlie St. Cloud]: Is temporarily clinically dead after his car is accidentally hit by a truck. He is brought back to life when Ray Liotta manages to resuscitate him on the way to the hospital.
Deaths in Television
Edit
ER: Dear Abby (2003) [Bobby Neville]: Dies on the operating table after being shot in the stomach (off-screen).
Heist: Pilot (2006) [Pizza Guy #1]: Killed when the bomb strapped to his body detonates after the police prevent him from robbing the bank, as Dougray Scott and Steve Harris watch from a distance.
Ad blocker interference detected!
Wikia is a free-to-use site that makes money from advertising. We have a modified experience for viewers using ad blockers

Wikia is not accessible if you've made further modifications. Remove the custom ad blocker rule(s) and the page will load as expected.